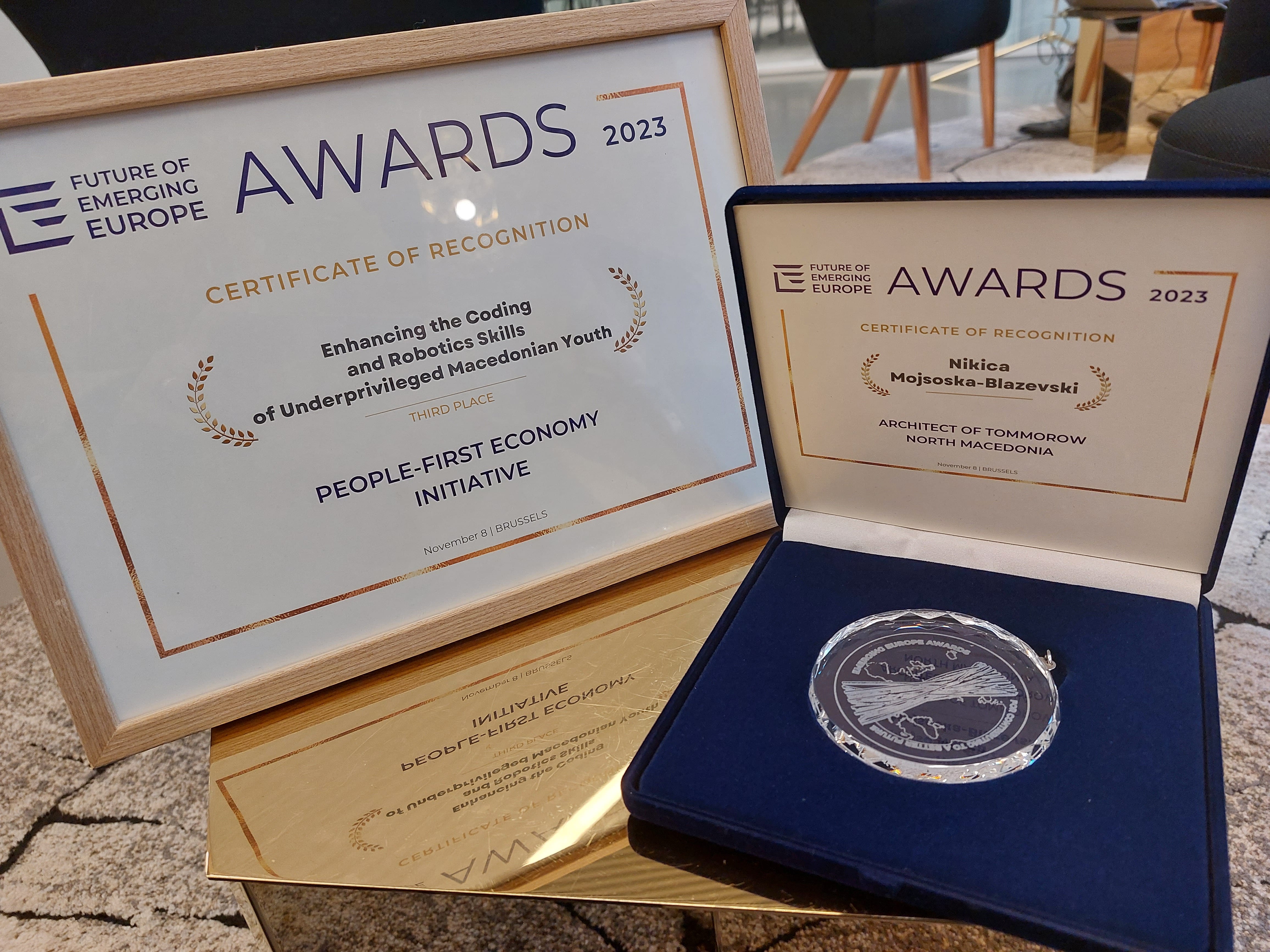 The work of more than 60 NGOs, businesses and individuals from across Central and Eastern Europe "Grasping the chance to lead!" was recognized in Brussels on November 8 at the 2023 Future of Emerging Europe Summit and Awards, the sixth edition of a program that highlights best practice, innovation and courage across the region.
The winners, aligned with the United Nations Sustainable Development Goals (People, Planet, Prosperity, Partnership, Peace), were selected through a global vote by the Emerging Europe community, with over 23,000 votes cast for nominees.
Emerging Europe awarded Macedonia2025 with a certificate of recognition for enhancing the coding and robotics skills of underprivileged Macedonian youth (Ohrid High Tech Excellence Camp), receiving third place in the PEOPLE-FIRST ECONOMY INITIATIVE category. This category was intended for organizations operating in emerging Europe that implemented successful projects and initiatives aiming at closing the urban-rural development and income divide, contributing to the future of the labor market; and building conscious capitalism.
Nena Manchev, representing Macedonia2025, received the award at the Summit & Award ceremony in Brussels, earning applause for the organization's dedication.
Furthermore, our CEO Nikica Mojsoska Blazhevski was awarded a certificate of recognition for being an ARCHITECT OF TOMORROW NORTH MACEDONIA, among a group consisting of 28 exceptional individuals — one for each country of Emerging Europe and Central Asia. A comprehensive article summarizing the awards ceremony is available at Recognising emerging Europe's champions – Emerging Europe (emerging-europe.com)
These honors serve as inspiration for Macedonia2025 to continue its mission of paving a brighter and more prosperous path for all. The organization remains committed to building a people-first economy and empowering the next generation of STEM leaders.